Automatic marketing guide for salons, spas and clinics
A free guide to automating your client messages
Automatic marketing is a powerful tool for salons, spas and clinics. It can help you engage with your clients, improve your client retention rate, encourage repeat purchases and even attract new clients – ultimately growing your business and increasing revenue on autopilot!
The best part? It's easy to set up with the right know-how and templates, which are included in this guide.
Learn everything you need to know about automating client messages for your business with our free e-book, which includes ready-to-use email and SMS templates and checklists.
This free guide to automatic marketing includes:
11 automatic marketing ideas proven to get results
Ready-to-use email and SMS templates
Tips for building and managing your contact list
Checklists for sending automated emails and SMS
Instructions on how to track and measure your success
Download your free e-book and start automating your messages now!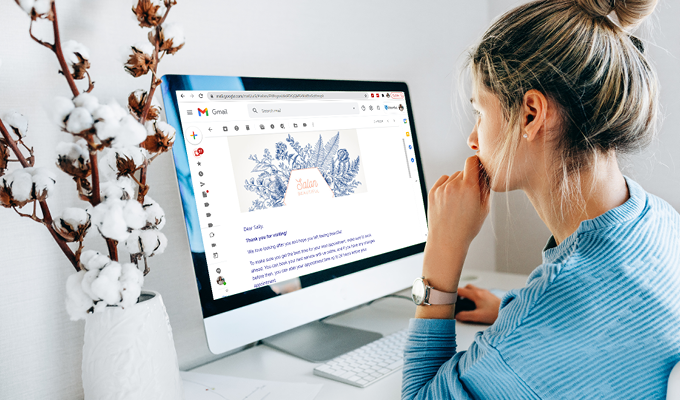 What is automatic marketing?
Automatic marketing is all about using smart software to send automatic messages to your clients on a regular basis to keep in touch, e.g. appointment reminders. To send automatic messages, your salon software will use preset triggers. A trigger is a setting within your software that kicks off the automatic sending of an email or SMS to your clients, for instance, when they sign up for their first appointment. There may be a few default types already set up and you may also be able to create your own.
How do I build my client contact list

?

The first step to automatic marketing is having access to your client contact information in the software you're using for your marketing.

For new clients, a simple way to do this is to make it part of a new client consultation. Have a form ready or use your software's functionality so that your client can provide their contact information, as well as their preferences, allergies, favourite drink or anything else you and your team need to know. If you use digital forms, send a link to the form by email or SMS before the client's first visit and gather their information in advance.

To keep your database up-to-date, ask clients to confirm their contact information when they visit. Make it a part of every consultation to check their client card and see if any contact information is missing. Alternatively, adding a custom field to your client cards of "contact information last updated" will help you keep track of how up-to-date your list is and could act as a prompt to ask clients to check that their contact information is correct once a year.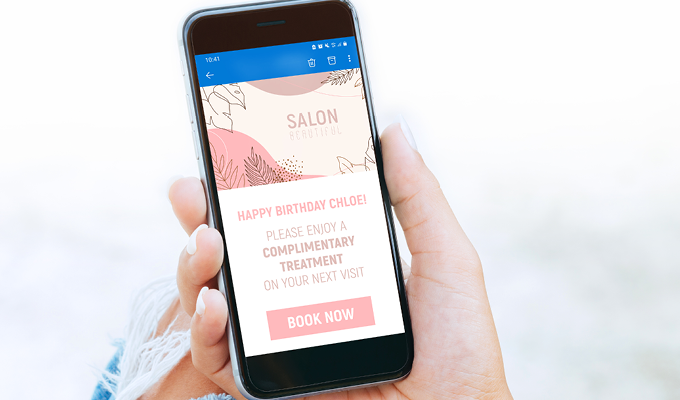 How to choose the right messages
When deciding what automatic marketing messages to send, consider your goals and areas in your business you are aiming to improve:
Reduce no-shows
Improve clients' aftercare experience
Increase retail sales
Get reviews and spread word-of-mouth
Here are some common automatic marketing messages sent by salons, spas and clinics.
Appointment reminders
Welcome new clients
Invite clients to review your salon
Request feedback
Thank clients for referrals
Share after-service care instructions
Follow up on product purchases
Remind clients to book their next appointment
Contact clients who haven't visited for a while
Celebrate clients' birthdays
Delight clients following special occasions
Improving your client experience with automatic marketing
You can use automatic messages to ensure that your client experience is the best at every stage of the journey. You can set up and use automatic messages before, after and in-between their visits. This is a great way to build a relationship and loyalty with your clients.
Start with setting up appointment reminders and then customise your messages going forward based on what you think your clients need. We've developed an example below to show all the different types of interactions they could have with your business at different stages. Use this as a starting point to build a client experience that works for you.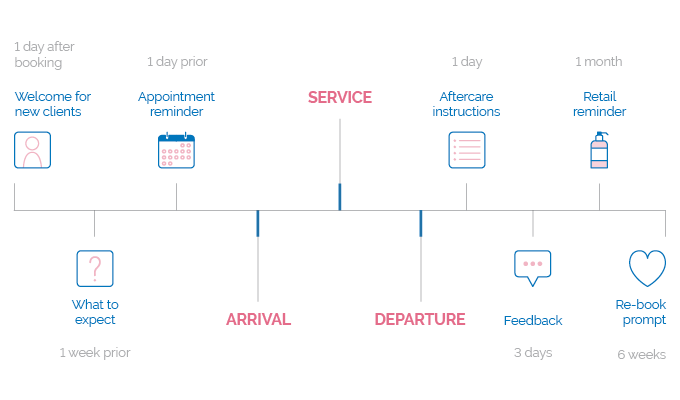 The guide to getting started with automatic marketing for your salon or spa
Getting started with setting up your automatic marketing can be daunting. But it doesn't need to be. Download our complete guide to automatic marketing, focus on your goals and choose one or two messages to get started with. You'll be saving time while engaging with your clients in meaningful, personalised ways.